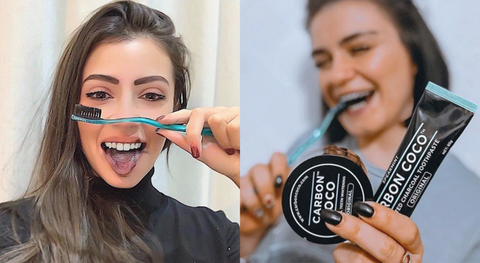 Tooth Polish or Toothpaste? HELP!
Want to improve your oral care routine but not sure where to start? We got you, boo.
If you're new to the Carbon Coco fam and want to know how to get a glowing smile and a healthier mouth keep reading. We have devised a little guide on what to expect when purchasing our essentials: our famous Activated Charcoal Tooth Polish and our Activated Charcoal Toothpaste.
We like to think of these two as the heavy hitters of natural teeth whitening.See below for a breakdown of this smile loving combo, and check out how they align with your #smilegoals.
Activated Charcoal Tooth Polish
If teeth whitening is your goal, we recommend our world famous Activated Charcoal Tooth Polish. This all natural tooth polish is our number one whitening solution. 
Made from 100% organic coconut shell activated charcoal, this finely milled powder should be first on your list if you want a brighter smile the natural way. 
To use this powder, dip a wet toothbrush into the jar and tap off the excess. Brush your teeth gently for 3 minutes and spit out and rinse. Easy! For best results, use at night and follow with our Activated Charcoal Toothpaste (more on that later). 
PRO TIP:  If you want to avoid unnecessary clean up as you brush, use the Activated Charcoal Tooth Polish in the shower for zero mess.
This polish is suuuuper long lasting; you only use a small amount with each brush, so is a great investment for your teeth. While the powder may look a little scary, it has zero taste or smell and causes no sensitivity, unlike chemical whitening solutions (eeek!). And if that wasn't enough, our Tooth Polish also actively detoxes your mouth, removing stubborn bacteria and stains as you brush. Need we say more?

Activated Charcoal Toothpaste
Want to maintain your whitening results while you freshen up? Then look no further than our Activated Charcoal Toothpaste. This super fun, super foamy black toothpaste is specifically formulated to work in conjunction with our Tooth Polish to keep your smile whiter for longer. This should be on your list if you are looking to maintain your whitening results while you clean. 
When used alongside our Tooth Polish, the Activated Charcoal Toothpaste works to prevent any future staining and keep your teeth pearly white. It also provides a super refreshed, minty feeling and boosts your oral health when used twice daily.
Use the toothpaste in the morning for 2 minutes as you would your regular toothpaste; and again in the evening following the Tooth Polish. Hello healthy, gleaming white smiles!
Want to give this all-natural oral care duo a go? Check out our Ultimate Carbon Kit. This kit includes both our Activated Charcoal Tooth Polish, our Activated Charcoal Toothpaste, as well as our specially designed bamboo bristle Toothbrush AND our Coconut and Charcoal Whitening Strips to keep your smile bright and mouth feeling fresh AF!
Carbon Coco xx