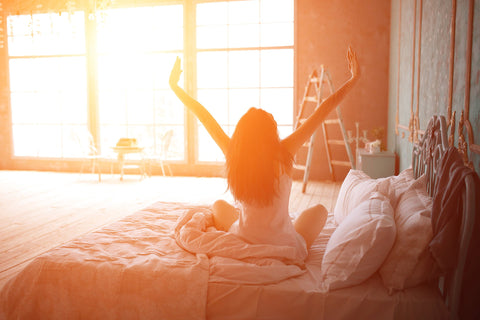 Get the Most out of your Mornings.
Sick of feeling blah in the mornings?! We know the feels. That's why we've compiled this little list of tips for how to start your day out right.
Get Moving
One of the best ways to energize in the AM is to start your day with a quick workout! We know it's tough, but the endorphin boost will have you feeling buzzed all morning. Also, working out before work means you can chill at the end of a hard day- put your feet up babe, you deserve it.
Fuel that Bod
While we too crave that morning coffee on the way to work, try to opt for something a little more nutritious. Starting your day with a healthy breakfast such as muesli, eggs on grain toast or a protein smoothie and fruit will give your body the fuel it needs to kick ass throughout the day.
Make a To-do List
Another great way to get productive in the morning is to write yourself a to do list of tasks to achieve throughout the day to help you focus up. Whether it's work related, a fitness goal or something social, it's a great feeling ticking off tasks as they are completed.
Self Care
Each morning, try to practice one act of self care that will start you out with a positive outlook. Whether it's applying your favorite red lipstick to get that extra confidence boost, or lighting a yummy scented candle as you get ready to face the day, ensure you treat yo self everyday; it's the little things that count.
Tune In
Our last tip on how to get your morning moving is to blast those tunes! Music is a great way to kick start your motivation each day so pump up the volume, have a bedroom boogie and go get it girl! Pro Tip: our personal fave track for morning vibes- September by Earth Wind & Fire is a guaranteed mood booster!